Above are two Evening Enchantment Reproduction Barbies repainted to
look like the new Silkstone Barbie. Hair is cut and restyled. To do
so, hair is first cut, then rolled in perm rods, and then placed in
boiling water to set for a half hour. After waiting for hair to cool,
removed perm rods and let hair dry overnight. The following day the
hair is combed into the style.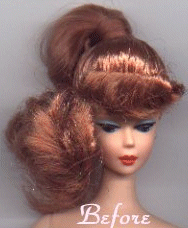 Before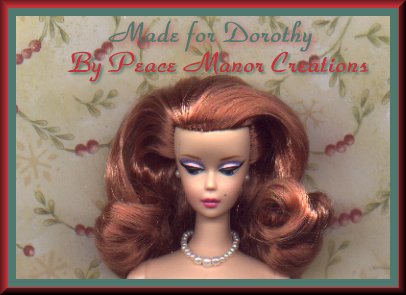 After
Before & After repainting, cut & restyling hair of a Wedding Day Repro
Barbie. Notice the eyeshadow color is purple & pink, with black eyeliner
and a black beauty mark. Also, notice the difference in lipstick color.

Sold on Ebay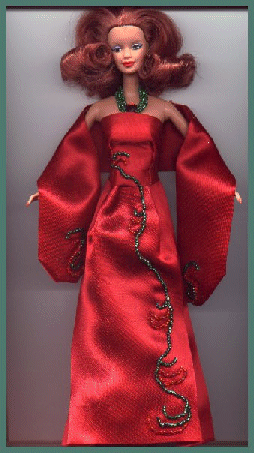 Front of Doll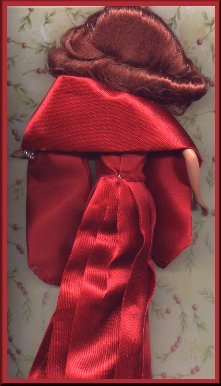 Back of Doll
Look at Ruby & Emerald Twinkles above. Her face has been repainted, her
hair has been cut & restyled. Her nails have been painted red. Her red
satin dress is a OOAK (one of a kind) with hand beadwork. Her dress was
made without a pattern and is removeable. Each red and green glass bead was
sewn on one at a time! Her necklace, bracelet and earrings are also made
with glass beads. Unfortunately, the above photos were taken on a scanner
with her lying down. So she looks better standing up.


You are Invited to Join My Webrings: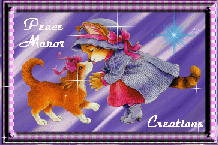 Free counters provided by Andale.


© 1999-2004 Peace Manor