PLEASE NOTE:
I am no longer offering my graphics on this web site.
I am only offering them at my yahoo group, please click
here
.
When you join you will receive all my IncrediMail stationary and matching tags
as I make them via email. Also tags will be up for request and personalized with
your name on them. There are over 200
IncrediMail
letters to snag there.
I have started to store some of my signature tags at my Fotki album.
To snag them, click
here
.

Receive all my Incredimail stationary and matching tags at:
Is your name Wendy? If so, join us at Wendy Tags:
Do you use PSP? Join my tutorial group:
NEW! - Fotki Album of Sig Tags
Latest Tutorial
by Wendy


Did you pick up some graphics you liked?
If so, PLEASE sign my guestbook letting me
know you enjoyed my graphics:

Webrings

Graphics By: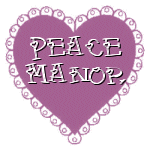 © 1999-2006 Peace Manor