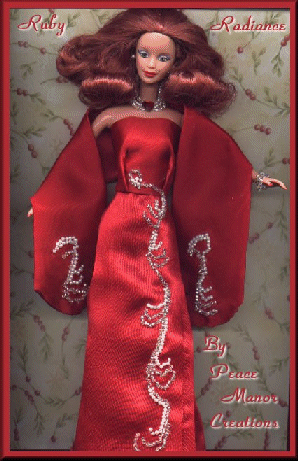 Ruby Radiance
Doll above is named Ruby Radiance and was done for a swap on
Vicky's Bulletin Board
. She is wearing a red satin gown
made without a pattern. Each bead was sewn on by hand one at
a time! Her face & nails are repainted and hair cut & restyled.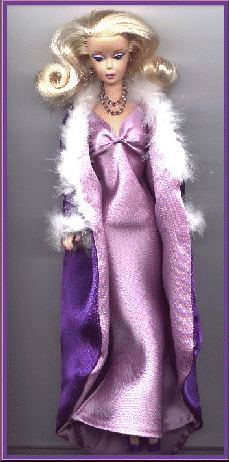 Outfit Made By Me & Friend
Doll above is a repro Barbie cut & restyled hair and repainted
face. Her repainted face is done to look like the new silkstone
Barbies. She's wearing a purple satin outfit sewn by hand from
a Vogue pattern.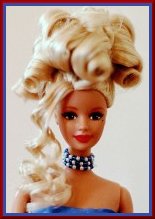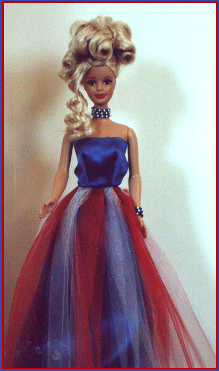 4th of July Swap
Above doll is the blonde version of a 4th of July swap. I did
a Theresa doll for the actual swap. She has a blue satin dress
with red & white strips of fabric sewn on one by one. Her outfit
was done without a pattern, to look like a vintage dress but in
patriotic red, white and blue colors. Her hair was cut & restyled
and her face & nails repainted. Her jewelry is made out of glass
beads.


Above dress was made with a Vogue pattern. It features black
lace over blue satin. This one was really difficult to do, since
the pattern wasn't very good. It came out with a much tighter fit
than the pattern said it would.

Above doll on left was done for an Easter Ball swap. She features
a pink and silver dress, with a silver rose & bows. Also, pink &
silver glass bead jewelry. Doll on the right is the blonde version
I kept for myself.


You Are Invited To Join My Two Webrings:


Free counters provided by
Andale
.
© 1999-2004 Peace Manor