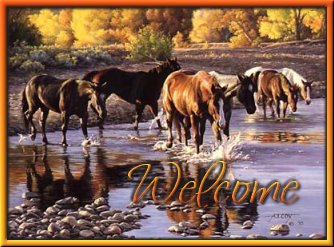 TO: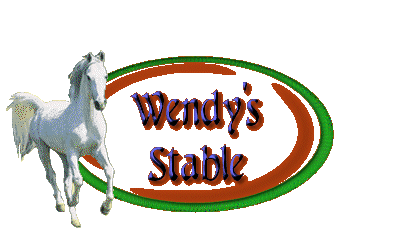 My Collection of Breyer Model Horses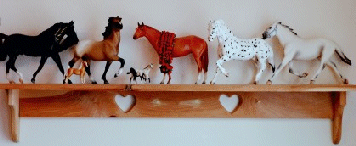 Above you will see some of my Breyer Model Horses collection. I have been
collecting since the 70's. I would save up my allowance from my parents to buy
them. Now, as an adult, I try to add one or two a year to my collection. I
currently have 35 model horses in my collection.

More of My Collection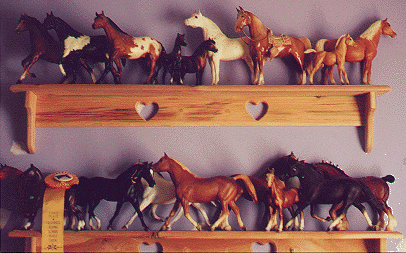 I love horses! I took English riding lesson when I was young. I was in a horse
show with a horse named Arkle and won 3rd place. You can see the ribbon above. I
leased a horse named Doc for awhile before I had to move from VA to NC. I miss
riding and hope to do more of it soon. More photos to be added soon.

Latest Additions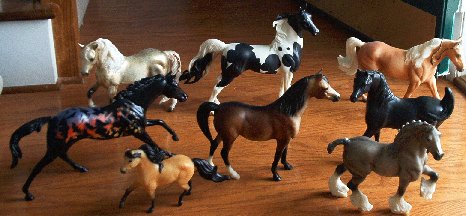 Above you will see the latest additions to my collection this year! I've been
very busy this year buying new ones. Above you will see Banat er Rih 2002 Tour
Horse I bought on October 19th 2002 at the Blue Ribbon Celebration at Bedford
Falls Toy Shop in Charlotte, NC.


My first Breyer was the Clydesdale Foal in the 1970's. It's the one on the far
left in the photo above. I received it as a Birthday gift from my best friend
Amanda. Later, I received more model horses as gifts from my parents at
Christmas time and on my birthday. I also saved up my allowance to buy them.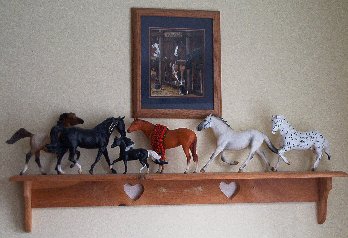 Below you will find a list of my entire collection of horses. I was able to find
all the stock numbers and info on my collection (even 1970's) with the Breyers
Animal Collector's Guide. Click on the link (under recommendations) below
to buy one yourself.

List of My Collection
Most recent purchase to first
1129 - Rhett Glossy Charcoal '01
- Fortuna '02 QVC Exclusive 4th in Glossy series
SR2002 - Nosteratu '02 2nd in Halloween series
1173 - Boone's Little Buckaroo '02 Buckskin Miniature Horse

703002 - Banat er Rih - 2002 Breyer Tour Event Model
1141 - American Saddlebred - B & W Pinto '02
1172 - Southern Sunrise - Palomino Missouri Fox Trotter '02
1153 - Walter Farley's The Black Stallion '02
627 - Shire '02 Dappled Grey New Sculpture
467 - Midnight Tango Black Pinto Mini '00 Retired
750 - Hank Black Leopard Appaloosa '00
1116 - Pay-N-Go - Famous Dressage Appaloosa 2000
1121 - Mustang '00
472 - Huckleberry Bay - Famous Arabian Stallion - 1999
731 - Niatross Bay w/black points '98-00
703298 - Belgian Glossy QVC 1998
SR1998 - Secretariat, Triple Crown 25th Anniversary QVC 1998
971 - Iron Metal Chief, Missouri Fox Trotter - 1997
701797 - Before The Wind TRU (7,500 LE) Standardbred Pacer 1997
496 - Aristocrat Champion Hackney '95-'96
232 - Appaloosa Stock Horse Stallion '81
229 - Tobiano Pinto Stock '81
85 - Foundation Stallion Azteca Dapple Gray '80's
59 - Morganglanz Chesnut '80-'87
124 - Bay Running Mare 1970's
23 - Shetland Pony Bay 70's
219 - Proud Arabian Foal Mahogany Bay 70's
57 - Western Horse Glossy Palomino 70's
5 - Arabian Mare Palomino 70's
6 - Charity Family Foal Palomino 70's
217 - Proud Arabian Mare Alabaster w/ gray 70's
64 - Black Foundation Stallion 70's
18 - Stock Horse Foal Black Appaloosa 70's
80 - Clydesdale Stallion 70's
83 - Clydesdale Mare Chesnut 70's
84 - Clydesdale Foal (my first Breyer) 1970's

My Wish List
1133 - General Sheridan's Winchester
479 - National Show Horse - Bay Pinto
576 - Gray Paso Peruvial Stallion '02
474 - Seattle Slew '02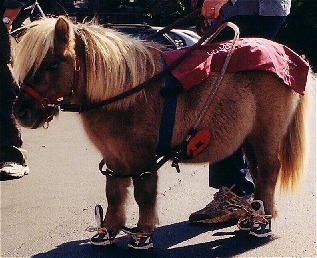 A miniature horse for the blind. Visit their
website

Recommended Websites:
Breyer Animal Collectors Guide
Encyclopedia of Horse Breeds
Great Prices on Breyer, Where I buy mine from
The Official Breyer Website


Webrings

You Are Invited To Join My Webring: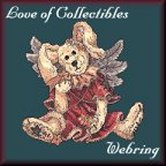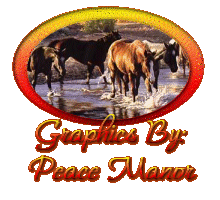 Free counters provided by Andale.

© 1999-2004 Peace Manor

Photo from Clip Art
by Charles Perrien