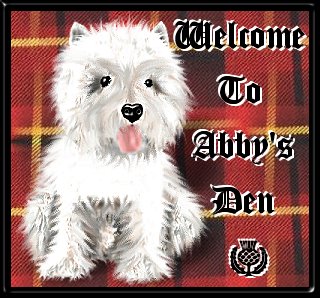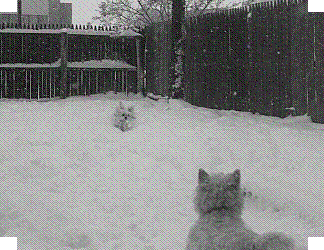 Abby the West Highland White Terrier
Fred hopping thru the snow & Abby watching.
Look at his ears flying straight up!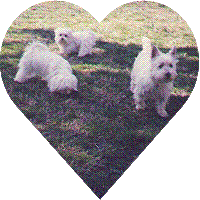 Maggie, Fred & Abby in the backyard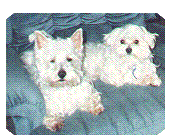 Abby & Fred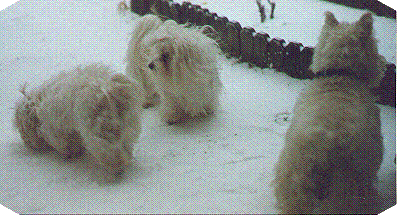 Abby loves the snow!
Above photo includes our Malteses - Fred & Romeo with Abby in the rare VA Beach snow! We adopted Abby in 1990. She's my second Westie. I had one as a child for 14 years named Tuffy. Abby loves the cold weather. Since Westies originaly came from Scotland that explains why she loves the cold weather! She also loves to chase birds. Once during the day she takes out a pebble of food and plays with it. Throwing it around & wagging her tail, then eating it. In addition, she loves walking on the beach and barking at the other dogs that come along. She loves lying on the sofa while John watches football and taking naps with him on the sofa. She's been John's sofa buddy since she was a puppy.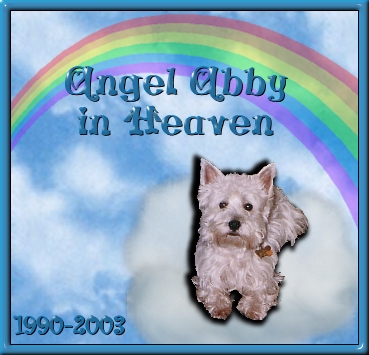 Sadly, Abby died on February 9th 2003. After 13 years of life on earth, she made her trip to Heaven. We will miss her and she will be in our hearts forever. Love You, Abby!

More Photos of Abby
Abby on the Fireplace
Abby with Flowers
Abby at the Door
Close Up
Abby with Oscar & Maggie
Abby on the floor
Abby on the Sofa



Webrings

Free counters provided by Andale.

© 1999-2003 Peace Manor